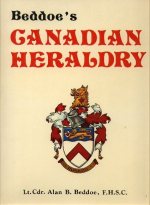 Title: "Canadian Heraldry"
Editor: Lt.Cdr. Alan B. Beddoe, FHSC, Revised by Col. Strome Galloway, FRHSC
Publisher: Mika Publishing Company, Belleville ON, 1981
Beddoe's Canadian Heraldry describes the history of heraldry in Canada and its development from French and British traditions. Many colour plates and black and white images provide examples of arms in use in Canada (civic, commercial, and personal). The book is available in public libraries or through the inter-library loan system.
(ISBN: 0-919303-56-0)
The Royal Heraldry Society of Canada is making available to its members and to individuals who are taking the Heraldry Proficiency Examination, the opportunity to purchase a CD containing a digital copy of Beddoe's book. The pricing is as follows:
For persons signed up for the course - $25 (Cdn).
For Society members not signed up for a course - $35 (Cdn).
For Non-members not signed up for a course - $45 (Cdn).
To purchase the CD, either write directly to: The Royal Heraldlry Society of Canada, Beddoe CD-ROM, P.O. Box 8128, Terminal T, Ottawa, ON K1G 3H9, Canada, enclosing a check for the applicable amount, made out to the RHSC (indicate on the cheque that it is for the Beddoe CD) - Note: Please allow up to 4 weeks for cheque handling time.: OR purchase online using PayPal by clicking on the CD image on the right.

Click for requesting more info on purchasing the CD

.


Click CD image to
access Paypal

Availability:
You may be able to find a copy through online books websites such as www.abebooks.com.

Hardcover - 224 pages, B&W & colour illustrations